If you have any questions about the code here, feel free to reach out to me on Twitter or on Reddit.
Week 1 RB Rushing Share vs. Tgt Share
Below is some visualizations + the code to generate 2020 week 1 target share vs. week 1 rushing share. Run the last cell first if you are running this in a notebook environment. The code has been placed out of order to render the visualizations first.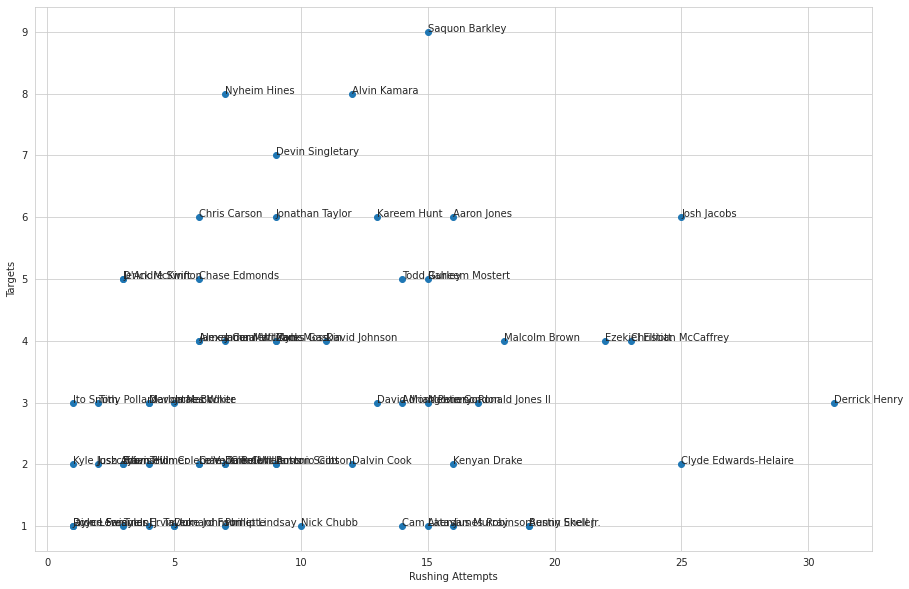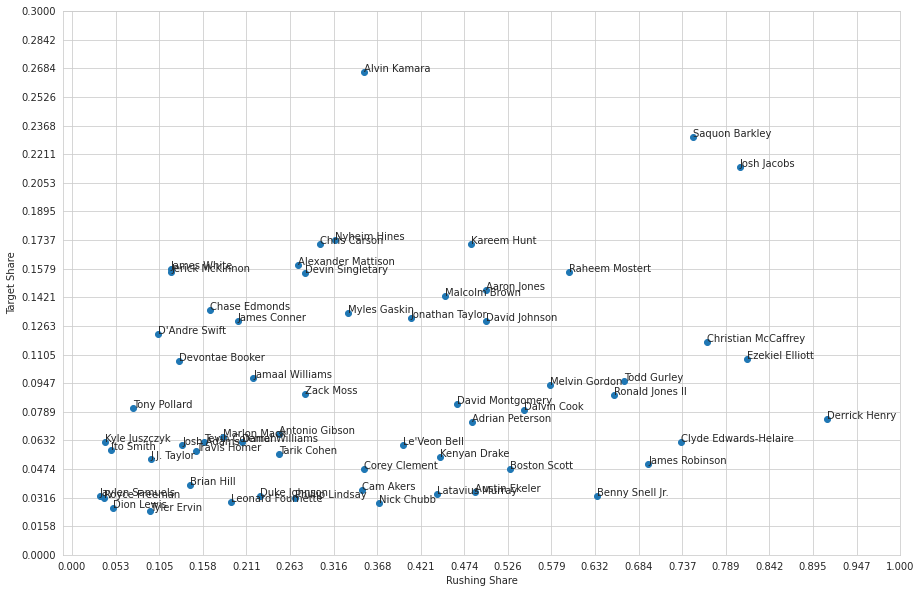 | | Player | RushingShare | TgtShare |
| --- | --- | --- | --- |
| 0 | Clyde Edwards-Helaire | 0.735294 | 0.062500 |
| 1 | Derrick Henry | 0.911765 | 0.075000 |
| 2 | Benny Snell Jr. | 0.633333 | 0.032258 |
| 3 | Ezekiel Elliott | 0.814815 | 0.108108 |
| 4 | Christian McCaffrey | 0.766667 | 0.117647 |
| 5 | Josh Jacobs | 0.806452 | 0.214286 |
| 6 | Adrian Peterson | 0.482759 | 0.073171 |
| 8 | Austin Ekeler | 0.487179 | 0.034483 |
| 9 | Malcolm Brown | 0.450000 | 0.142857 |
| 10 | Melvin Gordon | 0.576923 | 0.093750 |
| 11 | David Johnson | 0.500000 | 0.129032 |
| 13 | Kareem Hunt | 0.481481 | 0.171429 |
| 15 | Aaron Jones | 0.500000 | 0.146341 |
| 16 | Ronald Jones II | 0.653846 | 0.088235 |
| 17 | David Montgomery | 0.464286 | 0.083333 |
| 18 | James Robinson | 0.695652 | 0.050000 |
| 19 | Nick Chubb | 0.370370 | 0.028571 |
| 20 | Kenyan Drake | 0.444444 | 0.054054 |
| 21 | Joshua Kelley | 0.307692 | 0.000000 |
| 23 | Todd Gurley | 0.666667 | 0.096154 |
| 24 | Raheem Mostert | 0.600000 | 0.156250 |
| 25 | Dalvin Cook | 0.545455 | 0.080000 |
| 26 | Alexander Mattison | 0.272727 | 0.160000 |
| 27 | Latavius Murray | 0.441176 | 0.033333 |
| 30 | Tarik Cohen | 0.250000 | 0.055556 |
| 31 | Myles Gaskin | 0.333333 | 0.133333 |
| 32 | Cam Akers | 0.350000 | 0.035714 |
| 33 | Tyler Ervin | 0.093750 | 0.024390 |
| 34 | Sony Michel | 0.238095 | 0.000000 |
| 35 | Antonio Gibson | 0.250000 | 0.066667 |
| 36 | Boston Scott | 0.529412 | 0.047619 |
| 38 | Rex Burkhead | 0.166667 | 0.000000 |
| 40 | Devin Singletary | 0.281250 | 0.155556 |
| 41 | Peyton Barber | 0.472222 | 0.000000 |
| 42 | Devontae Booker | 0.129032 | 0.107143 |
| 43 | Mark Ingram | 0.333333 | 0.000000 |
| 45 | Nyheim Hines | 0.318182 | 0.173913 |
| 46 | J.J. Taylor | 0.095238 | 0.052632 |
| 49 | Chase Edmonds | 0.166667 | 0.135135 |
| 50 | Marlon Mack | 0.181818 | 0.065217 |
| 52 | Frank Gore | 0.400000 | 0.000000 |
| 53 | Phillip Lindsay | 0.269231 | 0.031250 |
| 54 | Jerick McKinnon | 0.120000 | 0.156250 |
| 56 | Carlos Hyde | 0.350000 | 0.000000 |
| 58 | Darrel Williams | 0.205882 | 0.062500 |
| 59 | Matt Breida | 0.185185 | 0.000000 |
| 60 | J.K. Dobbins | 0.233333 | 0.000000 |
| 62 | Jonathan Taylor | 0.409091 | 0.130435 |
| 63 | James White | 0.119048 | 0.157895 |
| 64 | Chris Carson | 0.300000 | 0.171429 |
| 65 | Jamaal Williams | 0.218750 | 0.097561 |
| 66 | Corey Clement | 0.352941 | 0.047619 |
| 70 | Tevin Coleman | 0.160000 | 0.062500 |
| 72 | Gus Edwards | 0.133333 | 0.000000 |
| 74 | Alvin Kamara | 0.352941 | 0.266667 |
| 76 | Le'Veon Bell | 0.400000 | 0.060606 |
| 77 | AJ Dillon | 0.062500 | 0.000000 |
| 78 | Duke Johnson | 0.227273 | 0.032258 |
| 79 | Kerryon Johnson | 0.241379 | 0.000000 |
| 83 | Brian Hill | 0.142857 | 0.038462 |
| 85 | Zack Moss | 0.281250 | 0.088889 |
| 87 | Tony Pollard | 0.074074 | 0.081081 |
| 91 | James Conner | 0.200000 | 0.129032 |
| 96 | Josh Adams | 0.133333 | 0.060606 |
| 98 | D'Andre Swift | 0.103448 | 0.121951 |
| 100 | Jordan Howard | 0.296296 | 0.000000 |
| 101 | Kyle Juszczyk | 0.040000 | 0.062500 |
| 103 | Saquon Barkley | 0.750000 | 0.230769 |
| 105 | Darrell Henderson | 0.075000 | 0.000000 |
| 107 | Leonard Fournette | 0.192308 | 0.029412 |
| 108 | D'Ernest Johnson | 0.037037 | 0.000000 |
| 111 | Justin Jackson | 0.051282 | 0.000000 |
| 112 | Ito Smith | 0.047619 | 0.057692 |
| 119 | Jaylen Samuels | 0.033333 | 0.032258 |
| 120 | Anthony Sherman | 0.029412 | 0.000000 |
| 122 | Alex Armah | 0.066667 | 0.000000 |
| 123 | Jason Huntley | 0.058824 | 0.000000 |
| 124 | Dion Lewis | 0.050000 | 0.025641 |
| 185 | Khari Blasingame | 0.000000 | 0.025000 |
| 188 | Mike Boone | 0.000000 | 0.000000 |
| 235 | Trenton Cannon | 0.000000 | 0.000000 |
| 380 | Royce Freeman | 0.038462 | 0.031250 |
| 387 | Wayne Gallman | 0.000000 | 0.025641 |
| 508 | Alec Ingold | 0.000000 | 0.000000 |
| 568 | Xavier Jones | 0.000000 | 0.000000 |
| 604 | Patrick Laird | 0.000000 | 0.066667 |
| 646 | LeSean McCoy | 0.000000 | 0.029412 |
| 658 | Jeremy McNichols | 0.000000 | 0.025000 |
| 724 | Senorise Perry | 0.000000 | 0.000000 |
| 772 | Jalen Richard | 0.000000 | 0.035714 |
| 875 | Chris Thompson | 0.000000 | 0.100000 |
| 920 | Derek Watt | 0.000000 | 0.000000 |
| 982 | Travis Homer | 0.150000 | 0.057143 |